One of the things Curacao is world famous for is the Blue Curacao liqueur. Popular in all kinds of cocktails because of its taste as well as its color. Visit the Curacao Liqueur Factory and learn how to make your own cocktails from the experts.
Blue Curacao Tour at Landhuis Chobolobo
You can now discover the world of Blue Curacao with a beautiful tour at Landhuis Chobolobo, the beautiful and typical Curacao country house from the late 16th century where the distillery of the original Blue Curacao is located. Discover the history behind the drink and taste the different varieties of Curacao Liqueur (Senior Liqueur). You do a 30- to 45-minute tour after which you can still enjoy a delicious cocktail. If you really want to have the full experience, do the Cocktail Workshop (also incl. tour) and you will learn how to shake from the experts.
Monday through Friday, 6x a day
Tour with guide
With liqueur tasting
The one and only original Blue Curacao
Good to know: Alcoholic drinks are only served to persons 18 yr. old. and up.
Tour lasts 30 to 45 minutes
Incl. at least 1 cocktail
Choice of 3 tours
Liqueur tasting
Buy your favorite flavor for home
The Blue Curacao tours
You can choose out of two tours and a Cocktail Workshop (tour included).
The following details apply to all three tours:
Flavorful and interactive tour of the Curacao Liqueur Factory
With professional guide
Learn all about the history and how Blue Curacao is made
Taste the different flavors of Curacao Liqueur (Senior Liqueur)
All tours can be done Monday through Friday
Tours can be done in English, Spanish, Dutch and Papiamentu
In addition, the differences for each tour are listed below:
Standard
Tour
US$ 15 p.p.
General details as reported above
Incl. 1 cocktail
Time 30 to 45 minutes, plus 'enjoy your cocktail time'
6x a day possible
Deluxe
Tour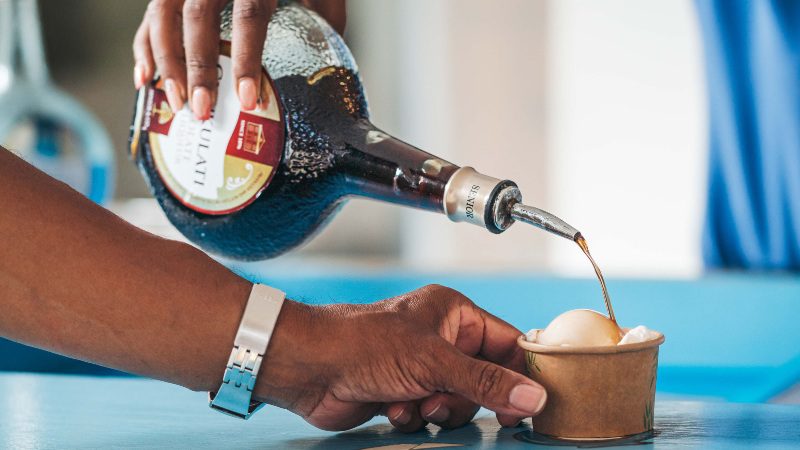 US$ 25 p.p.
General details as reported above
Incl. 2 cocktails
Incl. 1 locally made ice cream
Time 30 to 45 minutes, plus 'enjoy your cocktail time'
6x a day possible
Children up to 12 years old may enter for free for the Blue Curacao tour. They are not offered drinks as an alternative to cocktails at the tour and they cannot participate in the Cocktail Workshop with Curacao liqueur. Of course, there will be non-alcoholic beverages available for them at the bar and they may watch the Cocktail Workshop.

After the tour, you can reminisce over cocktails in the 19-century courtyard of Landhuis Chobolobo, and in the souvenir store you can buy a tasty souvenir of your visit to the Landhuis and the Blue Curacao factory.
Why via NaarCuracao.com
Easy & fast booking
Best service, also outside office hours
Change or cancel up to 24h in advance