From the water you will discover Curacao at its most beautiful. If you are with a group it quicly becomes interesting to rent a private boat and decide what the day looks like. Ideal right? And a private boat in Curacao is easily more affordable than you think.
Your own private trip
On a Caribbean island like Curacao, you obviously have boats of all shapes and sizes. From small to large, sailboat to motor yacht, you have them all in Curacao. Therefore, it is quite popular to rent a private boat. NIcely in a boat "customized" for your family, family or group of friends. Popular destinations are Klein Curacao and beach hopping towards Westpunt, but you can also do a very nice snorkel tour of Curacao where you can snorkel at or 3 spots.
On request
Every day possible
Multiple boats & destinations
Experienced & professional crew
You decide the destination
A party with just your group
Departure time by arrangement
Catering the way you want it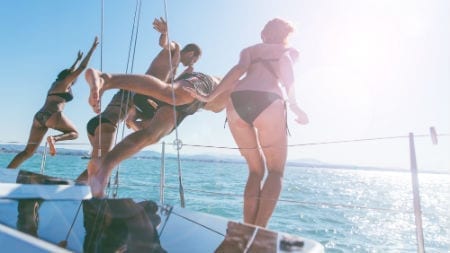 Boat rental: affordable for any budget
It can be interesting to rent a boat for a private day trip. People often think this costs a lot, but it's not so bad. What matters is that you find a boat that is well suited to your needs. If your group size is at about 80% or more of the maximum number of people on the boat, the price will soon be the same or even cheaper than if you go on a public boat. Thus, in terms of price, a private boat can be interesting from as little as 8 persons!
Rate
The rate for a private boat is different for each group. How big is the group, where do you want to go, how long, what catering do you want: all kinds of factors that determine the price. As an indication, a day trip to Klein Curaçao for a group of 10 people can start as low as about US$ 1,500, incl. drinks and bbq lunch. Make a completely free request and for questions feel free to contact us via email or Whatsapp.
Catering
Usually you pay a flat rate for renting the boat plus the crew, because for that it does not matter how many people you are with. The variable cost is usually the cost of catering, which of course does go per person. Would you like a sumptuous BBQ lunch incl. unlimited wine and beer with it? Then you pay a little more than if you choose to bring some sandwiches for lunch yourself. It is also possible to really just rent the boat for a private tour, and bring all the catering yourself. Tip: always do this in consultation with the crew, usually they can provide a refrigerator or cool box.
Note: At Curacao only boats with skipper are available for rent. If you are looking for a boat to drive yourself then unfortunately we cannot help you.
Amenities
Some of the boats that can be rented for a private day trip are boats that are usually also used for public day trips, e.g. to Klein Curacao. That means there are actually always facilities on board for a complete day on the water. Think e.g. water toys for the children or goggles and snorkels to explore the underwater world.
Why via NaarCuracao.com?
Easy payment with creditcard or PayPal
Choice of various boats & destinations
Best service, also outside office hours