Curacao has so many beautiful places to explore. But then again, as an average tourist, you just don't know where to go and they are by no means all listed in the guidebooks. Be surprised with the private tour by comfortable all-terrain vehicle by Maartje and Peter!
Possible every day, start 09:45
Each ride is unique,
to your liking
In comfortable
4×4 all-terrain vehicle
Incl. fresh fruit
from your own garden
Now only small deposit, the rest you pay only at check-in
What does the Surprise Me Private Tour look like
At 09:45 you will be picked up by the guides Maartje or Peter. The approach for the whole day is also mainly to make it a relaxing day, so you start with a cup of coffee/tea and you can indicate your preferences for the trip. Want to get out into the cool nature? No problem with the comfortable 4×4 all-terrain vehicle! Would you rather do a scenic route where you get to see the history of Curaçao? For that too, Maartje knows several great locations to drive by.
You decide
This Surprise Me private tour is sure to surprise you, but of course you have a say in the overall content of the ride. Want to go off-road, e.g. explore the rugged north coast? Or prefer a scenic drive past historical and cultural landmarks? Or do you want those gorgeous little coves undiscovered by most tourists? It's all possible: you decide. At the beginning of the ride, the guide will consult with you what your wishes are and based on that, a nice ride will be determined.
Catering & lunch
During the ride, the guide will provide delicious cold drinking water and you will also be offered a delicious home-made snack or fresh fruit from their own garden.
Because Maartje and Peter want you, the guest, to have the most wonderful day possible, you get to choose lunch. You are free to choose a restaurant somewhere along the way, but if we may offer a tip: You can also opt for the home-made picnic! A delicious lunch composed of vegetables and fruit from Maartje and Peter's own garden, a boiled or fried egg from their own free-range chickens, freshly baked rolls with savory and sweet toppings, pancakes and a fresh fruit juice. Of course, the picnic is in a beautiful location, so you can enjoy the scenery even during lunch. Highly recommended!
Comfortable all-terrain vehicles
On the Surprise Me private tour, you will be transported in wonderful comfort in one of two 7-seat all-terrain vehicles (Toyota Land Cruisers). If you book the tour for up to 6 people you will go in one all-terrain vehicle, For 7 to 12 people the second all-terrain vehicle will also be used.
Who are Maartje and Peter
The guides of the Surprise Me private tour are Maartje and Peter. True companions who have lived on Curaçao since 2010 and on the way during the tour enjoy telling from their passion for the nature, culture and history of Curaçao. Not for nothing is their approach "Come as a guest, leave as a friend"! Therefore, as Maartje and Peter themselves say, they see you as a "Tourbuddie" and not a "guest.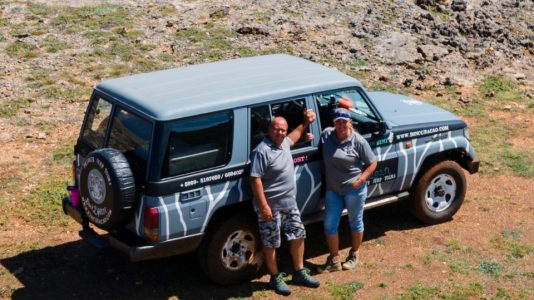 Partly because Maartje and Peter volunteer with the Unique Curacao Foundation, a foundation dedicated to the maintenance of nature on Curacao. Partly because of this, they know a lot of beautiful places of Curaçao where the average tourist or tour does not come.
Rate
You can already join the Surprise Me private tour for US$ 99 p.p. For this you get:
– Wonderful private tour of 5 to 6 hours along the beautiful nature & culture of Curacao
– Unique tour: specify what you want to see and get a customized tour
– Incl. fresh fruit and/or home-made snack
Children 4 to 11 yrs. may join for US$ 75 p.p. Children 0 to 3 yr. are allowed free of charge, but you must provide your own appropriate car seat.
When booking, you make a deposit of 10%; you pay the remaining balance at check-in.
Want a delicious home-made picnic for lunch? This can be done for an additional US$ 15 p.p.
Minimum number of people
The Surprise Me private tour continues with a minimum participation of 2 people. If you are alone, please contact us for options.
When & Where
The Surprise Me private tour is possible every day, subject of course to the availability of Maartje and Peter. Departure point is Starbucks Otrobanda, at 09:45 you will be met there by Maartje and/or Peter and then you can discuss your wishes for the ride.
If you are staying west of Willemstad, it is also possible to meet as a starting point at Country house Klein Santa Martha.
If you would like to be picked up somewhere else, that is possible (possibly at an additional cost).
Why book this trip via NaarCuracao.com?
At reservation only a deposit
Beste price, best service
Easy to book