With over 40 beaches, you have plenty to choose from at Curacao for a wonderful beach day. But sometimes you just want to go to the beach without crowds of other people around you. And you can! Book your super romantic private beach with delicious picnic now.
Your own private beach
Book an exclusive picnic at plantation San Nicolas and have a unique experience on a private beach paradise that is all yours for a morning or afternoon. At this authentic 300-acre estate, located on the west side of Curacao, you can escape mass tourism for a while. Everything here is taken care of to perfection so all you have to do is pack your beach gear and come enjoy a 3-course picnic in a beautiful setting. The picnic is made from carefully selected fresh local products and served in a sustainable manner.
Wednesday through Sunday, in the morning or afternoon
The complete beach just for you
With luxury 3-course picnic
Max. 8 persons
Good to know: excellent shaded areas available
Private Beach & Picnic
Curacao's only real private beach
Picnic based on the season
For min. 2 and max. 8 persons
Rate incl. private beach, picnic, drinking water and use of cool box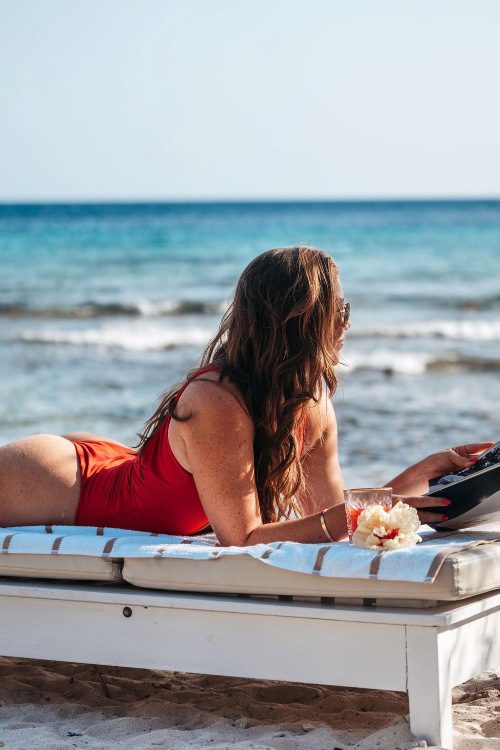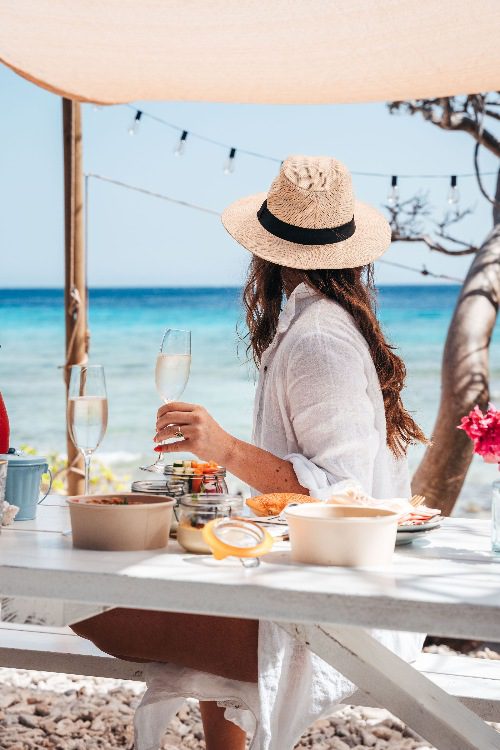 Rate
You book your lovely private beach for US$ 147 p.p. Minimum for 2 persons, maximum for 8 persons. When booking a deposit of US$ 21 p.p., the rest you pay shortly in advance.
Please be sure to make your reservation some weeks in advance!
It is just one beach available for this unique experience. So most of the time this experience is already fully booked at least 2 weeks in advance (or more). If you absolutely want to do this romantic experience, please do not wait with making your reservation.
What does a half-day Private Beach look like?
After booking, you will receive your personal code for access to the private area a day in advance, which will also include a route map and further information. Upon arrival at the estate, you will be welcomed at the mansion for a brief tour. Then you will get the warm items for the picnic and you can drive on to the private beach in your own car. There you can go and enjoy the picnic already prepared for you.
You can choose the Earlybird Morning Picnic (9:00 a.m. to 12:30 p.m.) to enjoy starting the day on the private beach or go for a stunning sunset with the Sunset Afternoon Picnic (3:00 p.m. to 6:30 p.m.). The picnic is a 3-course seasonal menu, with fresh coconut water and juice in the morning and agua frescas or a bottle of rosé in the afternoon.
Romantic or with friends
Enjoying yourself on a private beach is obviously a wonderfully romantic experience for you and your partner. Especially for the many couples getting married on Curacao, this is a wonderful getaway to relax together (Tip: This is a unique gift for a bride and groom!). But it is also a wonderful setting for a fun afternoon with friends. So whether you come to enjoy a romantic get-together or with a group of friends; it's bound to be an outing you won't soon forget.
Please note: it might be a challenge to reach the private beach if you might have a problem with walking down the stairs l by yourself.Please contact us at boeking@naarcuracao.com to discuss the possibilities.
Sustainable
Of course, we want to keep this beautiful little beach beautiful. Sustainable materials are used as much as possible, and the request to guests is to use coral-friendly sunscreen and not leave trash lying around in nature.
Why via NaarCuracao.com
Only via NaarCuracao.com
Easy payment with creditcard or PayPal
At reservation only a deposit