If you go to Curacao on vacation, you must go to Klein Curacao. This uninhabited island with white beach and perfect blue sea is not to be missed. Compare boats and book directly.
No. 1 Excursion at Curacao
Possible daily, always all-inclusive
The best boats, the lowest price
Klein Curacao: what is it
Klein Curacao is an uninhabited island south-east of Curacao with the whitest and longest beach of Curacao. It is about 12 km from the easternmost point of Curacao, but from the Vissershaven in Spanish Waters (where most boats to Klein Curacao are moored) the distance is about 27 km. Its area is about 2 km² and if you want, you can walk around the island in an hour or two. Klein Curacao is exactly what you imagine a tropical uninhabited island to be. A little paradise and a perfect place for a day trip during your vacation to Curacao.
Klein Curacao trips
The trips to Klein Curacao shown below are always All-Inclusive and at NaarCuracao anyway the lowest price.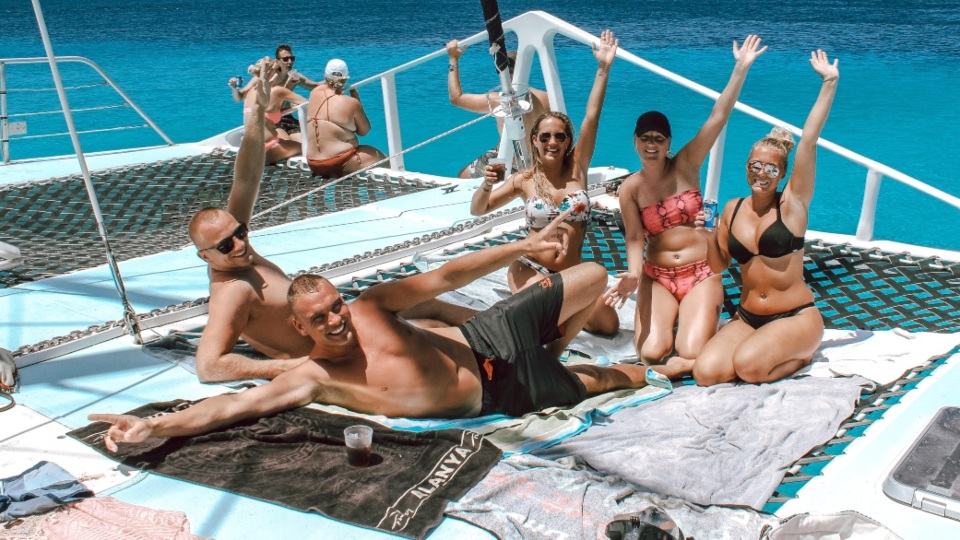 Irie Tours – catamaran
US$ 120
goes daily
breakfast + BBQ lunch
Open Bar (alcohol starting at 12:30)
facilities at the boat
departure from Caracas Bay
hotel pick-up optional
4 to 12 yrs. 50% discount
deposit $ 30 p.p.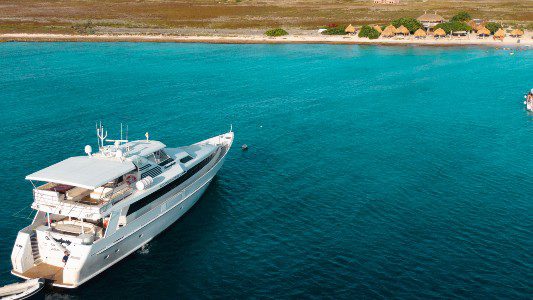 Miss Ann – motor yacht
US$ 130
Goes Tuesday through Friday and Sunday
breakfast buffet + BBQ lunch
non-alcoholic (alcohol for sale)
large beach house with beach beds
departure from Santa Barbara beach
hotel pick-up optional
4 to 11 yrs. 50% discount
deposit US$ 24 p.p.
Breeze – fast catamaran
US$ 119
goes daily
breakfast + BBQ lunch
Open Bar (alcohol starting at 12:30)
food on the boat + beach hut & beach beds
departure from Caracas Bay
hotel pick-up optional
4 to 12 yrs. US$ 65
deposit US$ 24 p.p.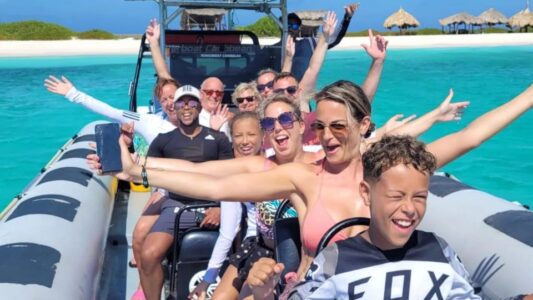 Powerboat – fast RIB
US$ 165
goes Monday, Thursday, Friday, Saturday
BBQ lunch
Open Bar
facilities at beach hut
departure from Jan Thiel beach
hotel pickup not possible
6 to 11 yrs. US$ 130
deposit US$ 30 p.p.
The best boats
Below are the Top 3 most booked boats:
Irie Tours – Catamaran
Catamaran – All-Inclusive (incl. alcoholic from lunch) – goes daily – departure from Caracas Bay
Irie Tours ' two catamarans are a popular catamaran trip for Klein Curacao. Recently completely refurbished again so tiptop and meets all requirements: sturdy, definitely seaworthy and very pleasant to sail. Irie Tours goes to Klein Curacao every day of the week.
Since Irie Tours has two beautiful catamarans with the Cool Runnings and Rastamaran, there is always room for you!
Catering
Irie Tours offers an all-inclusive boat trip to Klein Curacao: breakfast + lunch (burgers, chicken wraps, pesto pasta salad, fresh vegetable salad and chicken chorizos) + drinks. Starting at lunch , also alcoholic drinks (beer, rosé, white wine, rum, vodka).
You can also get a halal or vegetarian lunch at Irie Tours -on request-.
Hotel pickup
Irie Tours offers a transfer option; for US$ 10.00 p.p. you will be picked up by one of the brightly colored party buses and brought back to your accommodation at the end of the day. If you are staying in Jan Thiel, the pick-up service is free of charge.
Rate
With the Irie Tours to Klein Curacao you can book from as little as US$ 120 p .p. Children 4-12 yr. receive a 50% discount. When booking, you pay only a deposit of US$ 30 p.p.; the rest you pay shortly in advance via a payment link.
BlueFinn – Catamaran
Catamaran – All-Inclusive (incl. alcoholic from lunch) – goes every day – departure from Jan Thiel
BlueFinn Charters is the most popular boat trip to Klein Curacao. And with Curacaos two largest catamarans, that's not surprising. BlueFinn2 is 'the new big brother' of the famous BlueFinn catamaran, and both boats offer an identical trip: same catering, same top-crew, same price. And all-inclusive.
BlueFinns catamarans are the largest catamarans in Curacao. A magnificent 80 ft. long sailboat where you will have a wonderful cruise lying on the nets.
Catering
BlueFinn offers the day trip to Klein Curacao as all-inclusive (no breakfast). A delicious XL bbq for lunch (3 kinds of meat, 3 salads, French bread and peanut sauce). And the best Premium Open Bar: soft drinks, water, juices and, starting at lunch, beer, wine, whiskey and rum.
When & Where
BlueFinn goes to Klein Curacao every day. You leave from Jan Thiel beach (at beachclub Zanzibar) and 8.5 hours later you are back here. If possible, the sail will be hoisted on the way back.
Hotel pickup
You can book a hotel pickup with BlueFinn as well. Rate for this is US$ 16 p.p.; convenient with that deluxe Premium Open Bar!
Rate
An all-inclusive catamaran trip to Klein Curacao with BlueFinn is as low as US$ 120 p.p., children 4-12 yr. old. receive a 50% discount. You now make only a deposit of US$ 24 p.p.; for the remainder you will receive a payment link from the boat to be paid no later than 24 hours in advance.
Miss Ann – Luxury Motor Yacht
Luxury motor yacht – All-Inclusive (alcoholic at small additional cost) – departure from Santa Barbara beach
A boat trip to Klein Curacao with Miss Ann Boattrips is a luxury trip to Klein Curacao and we know why. If you want a top-notch day with all the trimmings, you're in the right place at Miss Ann Boattrips.
At 07:30 you will depart aboard this luxury motor yacht from Santa Barbara beach. In about 1 hour you will arrive at Klein Curacao, where you can start your breakfast buffet soon after arrival. Next, you have all day to enjoy Klein Curacao; just going back at 4 p.m. With some more rum-punch on the way back, you'll no doubt arrive back at Santa Barbara beach around 5:30 p.m. satisfied.
Beachhouse
A big plus with the Miss Ann boat trip is their beach house at Klein Curacao. Toilets, chilled drinks, a beach bed in the shade for everyone, tables and chairs for when you eat and palapas (= umbrellas).
Catering
Included in the price of this Klein Curacao trip is buffet breakfast, lunch (BBQ + salads + fruit) and non-alcoholic drinks (water/juice/soft drinks). You can buy the alcoholic drinks separately, or choose Premium Open Bar (unlimited beer, wine, rum, vodka) already when booking.
When & Where
The Miss Ann sails every Tuesday through Friday and Sunday. You will leave from Santa Barbara Beach around 7 a.m., returning around 5:30.
Hotel pickup
Miss Ann offers Hotel pick-up; for €13 p.p. you will be picked up and taken back to your accommodation at the end of the day. Please note that Miss Ann's Hotel pickup is only available at the larger hotels/resorts in Willemstad (does not go beyond the hotels in Piscadera).
Extras with Miss Ann
The Miss Ann offers two more unique extras: you can -at an extra fee- get a wonderful massage (shoulders/neck/back) and in the afternoon you can join the free Snorkel Safari, looking for great sea turtles! And in Miss Ann's beach house you will also find a diving school where you, from beginner to expert, can arrange your dive on Klein Curacao.
Rate
If you want to join the Miss Ann Klein Curacao trip, you can do so starting at US$ 130 p.p.,children 4-11 yr. receive a 50% discount. When booking only a deposit of US$ 26 p.p., the rest you pay only when you check in on the boat.
Private boat – Klein Curacao
Are you with a group on Curacao, then you can book your own Private Boat Tour to Klein Curacao very cheaply. Already for 7 or 8 persons, a private trip can be a better deal than joining the standard day trips to Klein Curacao.
– For groups 7 persons or more already interesting
– Daily departure
– Usually leave 08:30 and be back 16:30, but times are negotiable
– Incl. snorkel gear
– Standard all-inclusive (drinks + bbq lunch), but without catering or with other interpretation is negotiable
With a large group, pricewize it is a better deal to take a private boat to Klein Curacao. In addition you have all kinds of advantages and convenience because you do not have to consider anyone else outside your group. You decide what time you will depart and return, when the BBQ lunch will be served, etc.
Book in advance
It is recommended to book your boat trip to Klein Curacao in advance, already from your home. The number of boat trips is limited, full is really full, and you can't just go to Klein Curacao on your own. Every week people are disappointed because they found out during their vacation that the boat trips to Klein Curacao are already completely booked. Save yourself that disappointment and reserve your spot on one of the boats now. Additional advantage: Via NaarCuracao.com you get the lowest price!
Seasickness
Unfortunately, some people are quite prone to seasickness, so they don't feel like going to Klein Curacao. But fortunately, this is easily combated, which makes it still doable for many people to go to Klein Curacao. You can read more about this on our page about seasickness & Klein Curacao.
What can you do on Klein Curacao
Besides lazing around, you can do some activities during a day on Klein Curacao. Think about touring the lighthouse or stranded ship, snorkeling (looking for sea turtles!), a ride on the banana behind a jet ski, or beach games like beach tennis. Bring your camera anyway!
Klein Curacao: lighthouse
Anyone who has ever been to Klein Curacao will have a picture of it: the Klein Curacao lighthouse. No doubt once an important lighthouse of one of those small islands that you quickly overlook in the dark, it is now a dilapidated but distinctive building on a deserted island. The lighthouse (officially the Prince Hendrick Tower) has stood there since 1849 but has since been used only as a very popular photo opportunity for tourists on the small island. In 1879, the lighthouse was largely destroyed by a hurricane. But the remnants were kept, and in the spring of 2017, renovations began to completely rebuild the lighthouse to what it was before the destruction.
If you want to go see the lighthouse, you can but it is not without dangers. Put on a pair of slippers or shoes: on the way to the tower, spiny plants grow everywhere.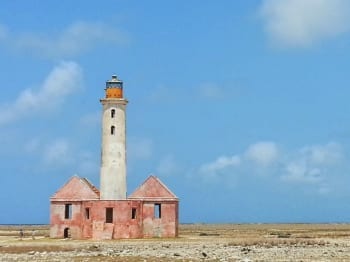 Klein Curacao: shipwrecks
The other attraction on Klein Curacao are the washed-up shipwrecks. It is unclear how long the ship has been there, but it has probably been there for about 50 years now. Over time, the ship almost completely decayed: much of it was swept away by sea storms, and what was left was totally rusted. And as a result, it is dangerous to go in or on the ship. Before you will realize, you'll sink through the rusted bottom or pull yourself open on a sharp edge of metal. So really don't board either, it can literally be life-threatening. Also, be careful when you go to watch the ship from the beach. The stones lying there can be sharp, and easily you'll cut your leg or foot. One last tip: Preferably plan your walk to the ship in the morning: you're walking in full sunshine so in the middle of the day it's very hot. And in the afternoon, you probably don't feel like to walk that stretch anymore.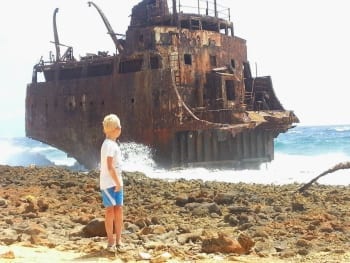 Klein Curacao: turtles
During your day on Klein Curacao, you should really go snorkeling in that fantastic blue sea. At the boat or your beach house you can borrow a snorkel and diving mask (no flippers, you might have to bring your own) and take your time to see how beautiful the underwater world of Klein Curacao looks. You are not 100% guaranteed to see sea turtles, but the chances of seeing them are very high; at least a few are spotted on every day trip.
Don't touch!
You can get pretty close, but don't try to touch the sea turtles. It is not pleasant for them and they will just disappear quickly. As long as you just swim along with them quietly (i.e., don't yell loudly to the shore for everyone "Here's one!"), they don't seem to mind people being around them and swimming with them.
Truly a top-notch experience!
Klein Curacao: kitesurfing
If you are more of the tough activities, you can also do some great kite surfing on Klein Curacao! Because of the location, at Klein Curacao there is a perfect wind for kitesurfing practically always. There is no kitesurfing school or rental on the island, so you do have to bring your own gear. So you have to think carefully about whether you're going out on the water yes or no. Of course, you also have to be very attentive to swimmers and especially snorkelers, because they don't always see you coming. And neither party wants serious mishaps on a lovely sunny vacation.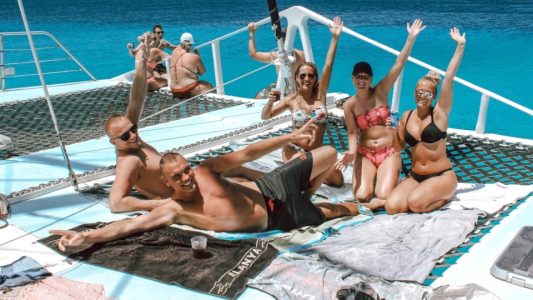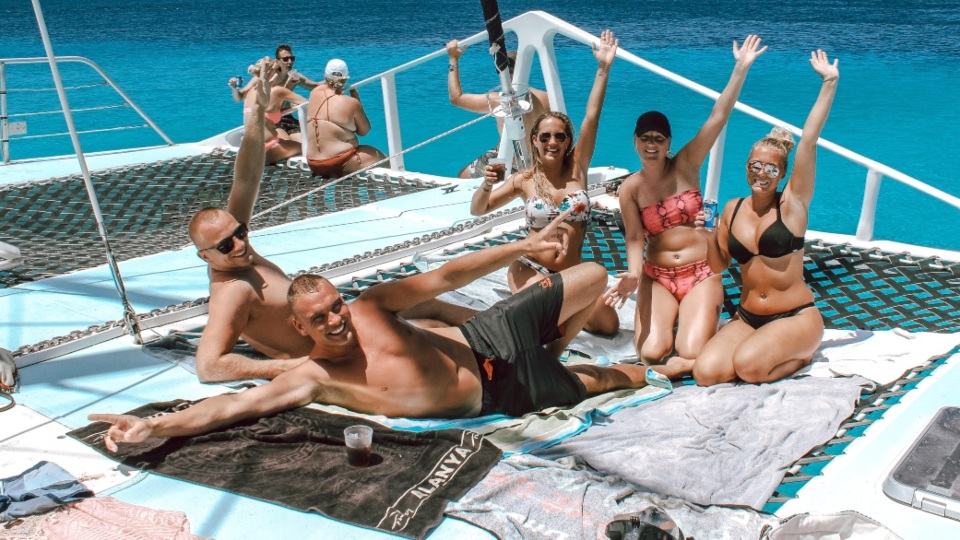 Irie Tours – catamaran
US$ 120
goes daily
breakfast + BBQ lunch
Open Bar (alcohol starting at 12:30)
facilities at the boat
departure from Caracas Bay
hotel pick-up optional
4 to 12 yrs. 50% discount
deposit $ 30 p.p.
ALWAYS SEATS AVAILABLE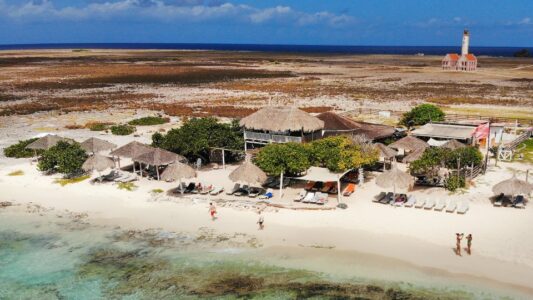 Miss Ann – motor yacht
US$ 130
Goes Tuesday through Friday, Sunday
breakfast buffet + BBQ lunch
non-alcoholic (alcohol for sale)
large beach house with beach beds
departure from Santa Barbara beach
hotel pick-up optional
4 to 11 yrs. 50% discount
deposit US$ 24 p.p.
MOST LUXURIOUS TRIP
Breeze – fast catamaran
US$ 119
goes daily
breakfast + BBQ lunch
Open Bar (alcohol starting at 12:30)
food on the boat + beach hut & beach beds
departure from Caracas Bay
hotel pick-up optional
4 to 12 yrs. US$ 65
deposit US$ 24 p.p.
GOOD FUN FOR YOUNG & OLD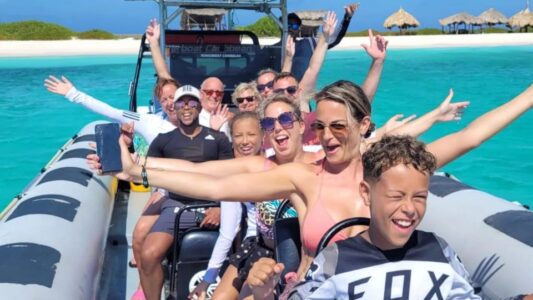 Powerboat – fast RIB
US$ 165
goes Monday, Thursday, Friday, Saturday
BBQ lunch
Open Bar
facilities at beach hut
departure from Jan Thiel beach
hotel pickup not possible
6 to 11 yrs. US$ 130
deposit US$ 30 p.p.
NO SEASICKNESS