Breeze offers a boat trip to Klein Curacao by luxury mini-catamaran. A small-scale boat tour and therefore just a little more intimate and personal. Of course all-inclusive catering and a beautiful beach hut with beach beds.
Breeze to Klein Curacao
With up to 23 persons on Breeze's luxury catamaran Topcat, it's just a bit more personal than most other boats (40 persons or more). Other advantages of Breeze include their beach hut with beach beds, water toys and a very good crew that goes out of their way every time to make it a top day for the guests.
Breeze goes to Klein Curacao every day of the week
Very comfortable day trip
Top crew that can always make a party
Luxury catamaran and beach hut with beach beds
Most comprehensive all-inclusive of all boats
Transfer from your accommodation to be included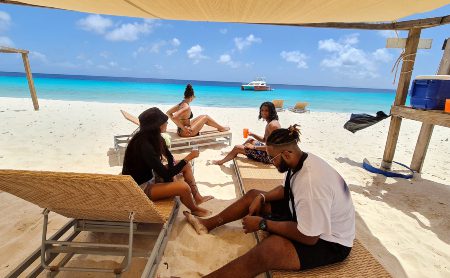 Klein Curacao with Breeze
What the tour looks like
You will be expected no later than 07:45 at Breeze Adventures Curacao (right next to the traffic circle between Jan Thiel and end of Caracasbaaiweg). On board, you will have breakfast first, so you will start the day trip with a full stomach. The Topcat will go to Klein Curacao in appr. 90 minutes, where the anchor will be dropped near the beach.
You can choose what you want to do: see the lighthouse or shipwrecks, relax on the white beach or swim in the brilliant blue waters.
Breeze = fun for young & old!
At 12:30 you will be expected back at the Topcat for the BBQ lunch incl. fruits and salads. And with Open Bar (in addition to water, juice and soft drinks, beer, wine, rum, whiskey and vodka), things are also well taken care of in terms of drinks. Breeze's crew always makes sure all guests have a good time!
In the afternoon you still have plenty of time to do whatever you feel like: snorkel in search of the sea turtles, laze on a beach bed in the beach hut or chill on board the boat with a drink.
At 15:30 Breeze will start the return trip to Curacao, where you will be back at Village Marina & Apartments, the boarding location, around 17:00.
Breeze transfer
To make it easy for you, Breeze also offers a transfer from your accommodation to Village Marina (Caracas Bay), and at the end of the day you will be returned for US$ 20 p.p. (Jan Thiel area US$ 10 p.p.).
Rate & Payment
you can join this all-inclusive boattrip to Klein Curacao for US$ 129 p.p.; kids 4-12 yo. can join for just US$ 65 p.p. p.p.and toddlers 0-3 yrs. may attend free of charge. At reservation a deposit of US$ 27 p.p. (kids US$ 12 p.p.); the remaining balance to be paid 24h before the trip.
Why via NaarCuracao.com?
At reservation only a deposit
Best price, best service
Change up to 24 hours in advance free of charge