Rappelling in Curacao! If you're really looking for the biggest adrenaline rush you can find in Curacao, then you've found it here: go rappelling from the famous high Juliana Bridge. From appr. 150 ft. height you will have a magnificent view and it will also surely be the toughest activity of your vacation.
On Friday, Saturday and Sunday
Rappelling from 150 feet (45 mtr.) high
Rappelling Curacao – Juliana Bridge
One of Curacao's iconic "landmarks" is the Juliana Bridge that connects the neighborhoods of Punda and Otrabanda. Because of the large vessels that must be able to pass under it from sea to the oil refinery, the road surface is over 180 ft. (55 mtr.) height. A tremendously high bridge; if you have to cross it for the very first time with your little rental car, you may have some doubts whether it will make it against the uphill slope (yes, no worries!). And from that high bridge you can rappel now!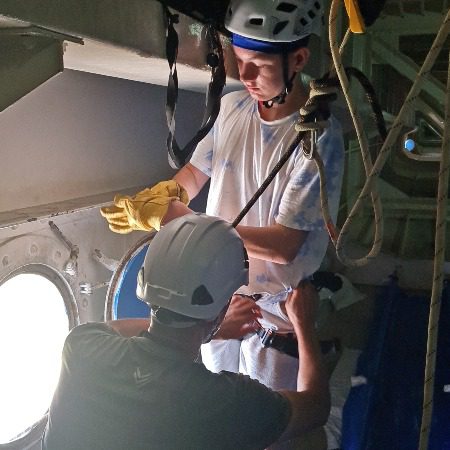 All safe
Of course, safety comes first. You will be guided by Albert, a man with a lot of experience in climbing and rappelling. You will receive clear and comprehensive (safety) instructions on the ground (before you climb up) and inside the bridge shortly before you abseil. But also while rappelling you will be guided by Albert and of course you will be secured so that no accidents can happen.
Inside the bridge
Through a hatch in the bridge you´ll go outside for rappelling. As your adventure begins you will enter the bridge through a hatch and walk through the bridge to the spot where you will rappel. That alone is a beautiful experience already. A hot experience, too: inside the bridge (all steel), Caribbean temperatures and no ventilation.
If you want, you can extend this experience with an tour through the bridge.
Rate
You can go rappelling from the Juliana Bridge for US$ 80 p.p. A deposit of US$ 16 is required at the time of booking.
You will pay the balance at check-in prior to your rappel-tour.
There is a minimum participation of 2 persons. If you are alone, you will still pay for 2 persons.
Maintenance
The bridge is currently undergoing major maintenance. That is why it isn´t possible to say with certainty in advance whether the rappelling will be possible for the date you have booked; permission will have to be requested each time. Rappelling will usually take place in the morning.
Unique look
If you want to take the opportunity by taking a unique tour of the bridge, you can. Before you will go rappelling from the bridge, you can take a fun tour of the bridge for about 15 minutes.
You can do this extra tour for US$ 30 per group.
Photos
Of course you want to take pictures of the rappelling in Curacao. But if you are at 150 ft. height dangling from a rope and you need at least one hand to control your rappelling speed, it can be challenging and risky to reach for your phone or camera. No worries! Albert will take plenty of photos and after the event you will receive them digitally at no extra charge.
Why via NaarCuracao.com?
At the time of booking only a deposit
Fast, simple and secure online payment
Rappelling Juliana Bridge