For sure the most popular boattrip to Klein Curacao. Taking the BlueFinn catamaran to Klein Curacao gives that extra dimension to a day in paradise. Book now.
Klein Curacao met BlueFinn catamaran
With the BlueFinn, Curacao 's most popular catamaran, you will experience the most authentic day trip to Klein Curacao. At sea, you'll be relaxing in the large nets of the boat. The crew of the BlueFinn will do everything possible to make it a great day for you. This day trip is all-inclusive, with delicious XL bbq lunch. And if possible on the way back, the BlueFinn will hoist sail, and you can enjoy the "world-famous" Captains Happy Hour!
Most popular boat from Curacao
Up to 65 guests on board
Departure from Jan Thiel beach
Always full, book on time!
XL bbq lunch and Premium Open Bar (A-brands)
Most famous boat of Curacao
Book with small deposit
75 ft. long (23 mtr.) and up to 65 guests on board
Comfortable, luxurious and quality!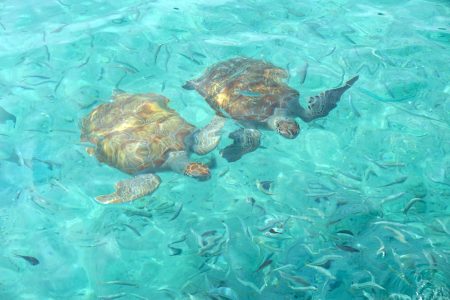 What the tour looks like
BlueFinn does things a little more relaxed than most other day trips to Klein Curacao, which often leave very early.
You will be expected for check-in at Jan Thiel beach latest 8:15 a.m. At 08:30 the boat leaves and immediately starts that wonderful feeling that comes with this beautiful day. Appr. 10:15 you will arrive at Klein Curacao and be taken ashore by a small boat where you can explore the uninhabited island. Take a walk to the lighthouse and washed up shipwrecks or enjoy the longest beach of Curacao.
XL BBQ & Premium Open Bar
Meanwhile, the crew of the BlueFinn catamaran is preparing the XL bbq lunch so that a delicious lunch will be waiting for you on board at 12:30. There are tables on board, so you don't have to balance uncomfortably with your plate in your lap. And this is an all-inclusive boattrip to Klein Curacao, you won't go thirsty (soft drinks, water, beer, wine, whiskey and rum).
After lunch you can enjoy the island again. You can use the snorkeling gear, so take a dive and look for the sea turtles!
At 3 p.m. it is time to start thinking about going back home. But not to worry, this too is another delightful experience on the BlueFinn catamaran: whenever possible, the sail is hoisted. You sail out into the sunshine, gliding along on the waves and in the meantime, it's also time of Captains Happy Hour! Around 5 p.m. you will be back at Zanzibar on Jan Thiel beach. (Tip: If you go on a Saturday, you can go right to the Happy Hour at Zanzibar).
For good reason, this is considered by many to be the most beautiful boattrip to Klein Curacao and is usually the first to sell out!
Rate & payment
You can already join this most popular Klein Curacao trip for US$ 120 p.p. Children up to 3 yr. may attend for free, 4 to 12 yrs. will receive a 50% discount. When booking, you pay only a deposit of US$ 24 p.p. If you want to be picked up and brought home by the Transfer Service, that is possible for US$ 19 p.p.
Why via NaarCuracao.com?
Only small deposit
Best price, best service
Rating Trustpilot 4.8 stars