If you are looking for an accommodation with all kinds of aminities for your vacation, but do not want the massiveness of the big beach resorts, then a Mini Resort is ideal for you.
Mini Resort: a little bit of everything
A Mini Resort on Curaçao is a good choice if you are not so fond of the big beach resorts, but also looking for some better amenities and service than at a vacation villa. Actually, a Mini Resort has a little bit of everything. Amenities and luxury as if you are at a large resort, but in privacy. Often the Mini Resort is on or near the owner's property and all the family helps to provide you, the guest, with a top-notch experience. And just that personal touch from the owner makes a Mini Resort worthwhile. Small scale, yet fully equipped. Professionally run with that extra commitment from the owners for the "finishing touches. Superb!
Apartments & Bungalows
Most Mini Resorts on Curaçao have a few apartments and/or a few bungalows to stay in. As a result, Mini Resorts are certainly suitable for larger groups. Enjoy renting an entire Mini Resort with all the family. On the contrary, if you are going on vacation alone or as a couple, even then you can do well at a Mini Resort. Many apartments at Mini Resorts are equipped for 2 to 4 people. You otherwise have all the privacy of a small accommodation, but if you feel like some social contact, there is always someone in the garden or by the pool for a chat.
Mini Resorts on Curacao: suggestions
Based on our own experience and from NaarCuracao visitors, we can give some suggestions for the best Mini Resorts on Curacao:
Panache Resort Curacao
Jan Thiel-east
Panache Resort is a beautiful Mini Resort, ideally located in Jan Thiel East. 3 Detached bungalows (2 persons), 2 luxury apartments (2-4 persons) and many amenities for a wonderful vacation. Panache is rightly one of the top Mini Resorts in Curacao. A spacious swimming pool with sun beds all around, free use of snorkeling gear, beach towel service, free use of the luxury BBQ, transfer to/from the airport and more facilities to provide you, the guest, with every convenience. Caracasbaai and Jan Thiel beach less than 5 (car) minutes away, as well as plenty of restaurants, supermarket and stores. We totally agree that Panache Resort score a 9.7 in the reviews!
Country House Bona Vista
Mahaai
If you are looking for an accommodation that exudes luxury and a totally relaxed atmosphere, then Country House Bona Vista is for you. This traditional Curacao country house with outbuildings has 6 spacious apartments with modern furnishings and suitable for 2 or 4 persons. Because of its location, you always have a cooling breeze here at the spacious courtyard pool. Within a 5-minute walk you have a supermarket and several restaurants, and with 10 car-minutes you are at the popular Mambo Beach or in the tourist center of Willemstad.
This is really the ideal accommodation if you want peace and quiet, but with catering, beach and all kinds of activities not far away.
Curinjo Resort
Dominguito
Curinjo Resort is not just one of the better-known mini resorts in Curacao. This beautiful small-scale resort with tropical gardens has 3 pools, a jacuzzi and with 8 studios, several 1-bedroom apartments and a lovely villa, there is a place for everyone. Curinjo Resort is just a 5-minute drive from Mambo beach with all kinds of restaurants and stores, or a few minutes' walk to a large supermarket. Owner Dana makes every effort from start to finish to make it an unforgettable vacation for you.
Curinjo Resort can also be booked as a Fly & Go, so you already have your rental car arranged right away.
Mini Resorts: small but nice
Curaçao Mini Resorts often consist of up to 6 to 8 apartments and/or bungalows. Small scale and uncluttered, but fully equipped. The big plus of Mini Resorts is that the owners usually live at the Mini Resort and are almost always there to help you with your questions or give you tips known only to the locals. With many Mini Resorts owners, you can clearly see the passion and fun reflected in their work.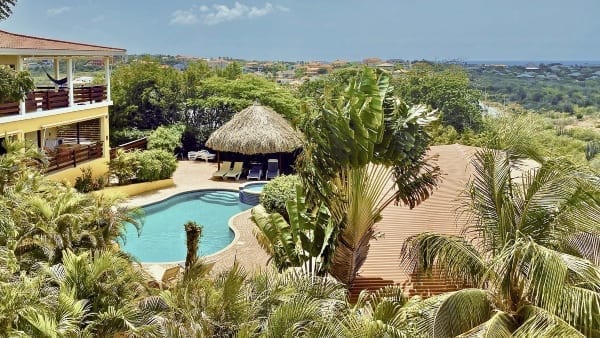 Economically priced
Mini Resorts in Curaçao are often very interestingly priced. Compared to the larger beach resorts, a Mini Resort has much lower costs for staff, maintenance, etc., so you often you pay much less than with the big resorts.
Atmospheric vacation
For an atmospheric stay, you're also in the right place at a Mini Resort. There are often activities organized by the owners that you can volunteer to participate in, e.g. a weekly BBQ night. If you don't feel like it then of course that's totally fine too, but it clearly indicates that you can expect more personality/service than e.g. in a "chilly" apartment complex where you will never actually meet the staff in informal settings.
5 Tips for the best deal
There is a large selection of vacation rentals in Curaçao, so how do you choose the vacation villa that offers exactly what you are looking for? We'll give you some tips.
1-Check the location
Almost all Mini Resorts on Curaçao offer an oasis of tranquility on their own grounds. But outside the gate, what you find can be vastly different. There are several Mini Resorts on Jan Thiel, a fairly tourist-oriented part of Curaçao. Beach bars, shops and restaurants are within walking distance, as well as some great Beach Resorts. Totally fine nice everything close by, but you have to be okay with the fact that it will be a bit busier with tourists around you. If you are looking for a bit more the complete tranquility, then a Mini Resort on the west side of the island (Banda Abou) is more suitable for you.
2- Discount in low season
Whereas with package tours it is often unclear exactly when the low season starts (often with a nice discount), with Mini Resorts on Curaçao it is a lot clearer. Most Mini Resorts clearly state it on their website when which rates are valid. Look into this carefully before booking. Vacationing just a week earlier or later can save a lot of money.
3- Compare based on price per person
With the major tour operators, the price of your vacation is often quoted per person, usually for a 7 or 9-night stay. Most Mini Resorts list their price per accommodation per night. So be careful when comparing that you compare rates side by side for the same number of people and number of nights. And then you'll find that a Mini Resort will often be surprisingly inexpensive.
4- Check the tickets
If you choose a Mini Resort, you almost always book it without airfare. But with airfare rates ranging between US$ 450 and US$ 1,000 or more, this -especially if you are going with a somewhat larger group- can make the vacation inexpensive or expensive. Check airfare prices before booking the Mini Resort to avoid a deception. Then check especially if it is price-wise interesting to start your vacation one or two days earlier or later. This can, in some cases, yield a benefit of US$ 100 per ticket or more, so well worth it.
When do you fly inexpensively to Curacao?
5- Personal tips from locals
Because of the personal contact you have with the Mini Resort owner, you can also ask for tips on inexpensive car rentals, the latest restaurants and the best excursions. Almost always you will get good and fun tips that are really helpful. Or they'll give you exactly that great tip where the tourist crowd doesn't go.