With more than 30 beaches in Curacao, you have plenty of choices for a wonderful beach day. But one beach is not the other. This are the 5 best beaches for the family.
Tugboat Beach
Nice small beach on the east side of Curacao. To get there you have to take the last bit on a dirt road full of potholes, but it is well worth it! Tugboat can easily be called the most atmospheric beach in Curacao. The administrators have made it cozy with all sorts of ¨art, accessories & knick-knacks¨. You will also find beautiful works of art by local artists.
The beach is never hugely crowded and you can always keep an good overview of the children. The name Tugboat refers to the sunken tugboat, which you can swim to from the beach. The tugboat is at about 23 ft. deep and full of coral and lots of beautiful fish. This is -especially for kids- a super fun snorkeling spot. Extra fun: take some bread into the water (e.g., in an empty water bottle) to feed the many fish here. If you don't have snorkeling gear with you, you can rent it at the bar on the beach.
Also fun for the kids: there is a special feeding area where iguanas are fed!
Tip: There are some pebbles on the beach and in the surf, so bring water shoes for the kids (and possibly yourself).
Facilities Tugboat beach
Beach bar for drinks & snacks (no full lunch or dinner)
beach bed for rent for US$ 6
snorkel, flippers and life jacket for rent
access and parking free of charge
10-minute drive from Jan Thiel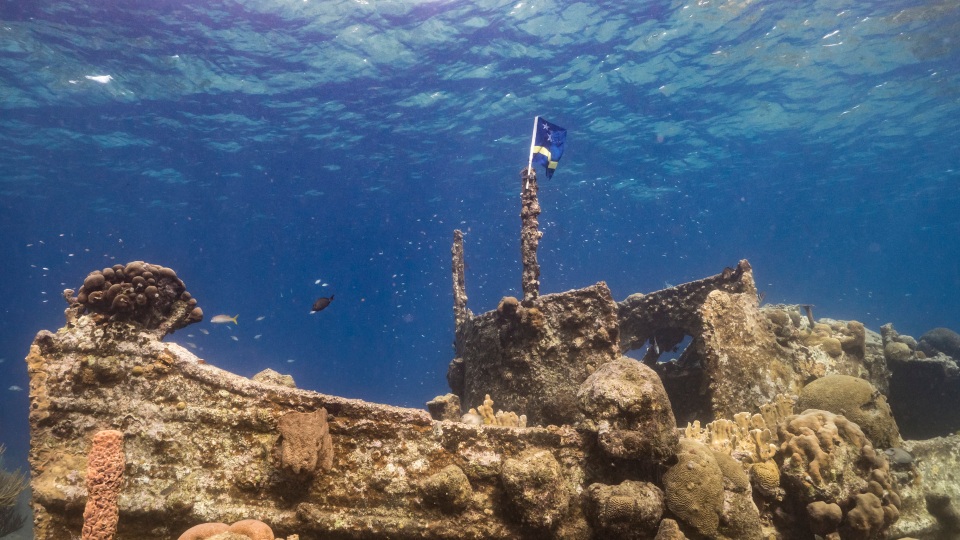 What can you do there?
At Tugboat Beach, you won't be bored. As already mentioned, here you will find one of the nicest snorkeling locations in Curacao here. A little swim, but for children ages 6 to 7 and up, is this quite manageable. The boat is at 23 ft. underwater, but as soon as you go underwater with your head you can already see everything just fine.
If you don't feel like lying in the sun or sea for a while, you can paint your own driftwood at the beach bar. As a souvenir it´s fun to make your own (name) plate!
If you want to go a little tougher, do the Tugbob tour with a cool Seabob (book in advance)! And if you really want to make it a great day, join the 3-in-1 Snorkel Tour by catamaran. One of the stops is also here at Tugboat, but you also have a meet & greet with 2 dolphins on the open sea.
Tugboat Beach in Google Maps
Playa Lagun
Lagun beach is beautifully located and perhaps our favorite beach of all all on Curacao. Left and right up there is a cliff and between them you find the beach. This is a very nice place to go with children. Because of the rocks on two sides, they cannot actually walk away unseen, and the beach runs very gradually into the sea. You have little wave action in the surf and it is a soft sandy beach so no water shoes needed.
If you want to spend a day here you have to be on time: it is not set up for very many people but it is popular, even among the locals. Not that it gets really crowded here; once it starts to fill up a bit, parking already becomes a challenge and most people who arrive will choose to go to a beach further away. Convenient: You can park right on the beach so you don't have to walk far with your stuff. And if you sit a bit to the side, don't be shocked by the iguanas that walk around here.
Lagun is a very nice snorkeling location. Along the rocks on both sides there is much to see. With any luck, you'll also come across a turtle!
Facilities Playa Lagun
access and parking free of charge
beach bed and umbrella for rent
massage
climb up for drinks on terrace with a nice view!
Approximately a 40-minute drive from Willemstad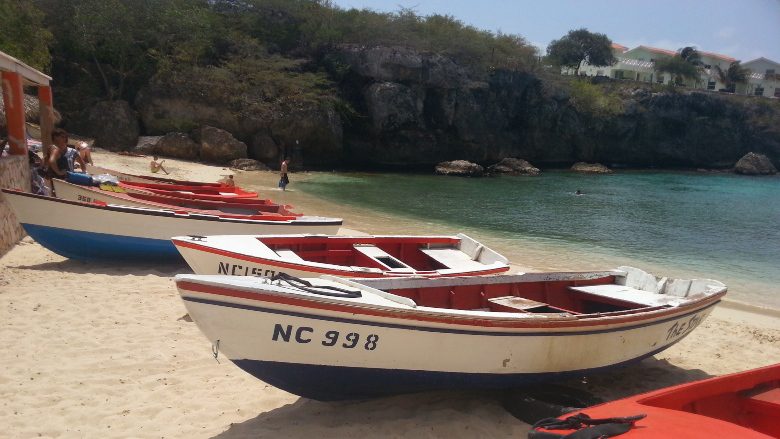 What can you do there?
At Playa Lagun, you really need to go snorkeling. Because it is in a bay, you have almost no current/wave action, so it is also a great snorkeling spot for children. Go especially along the sides near the rocks to see plenty of marine life. And with a little bit of luck, you'll also come across a nice big turtle! For a nice lunch or a drink, walk up the stairs on the side to the top (restrooms too). There are some shops behind the parking lot, including a diveshop. And if you really like it here, you can also arrange your accommodation at apartment 2Lagun or Bahia Apartments.
Tip: If you come early in the morning you can see the fishermen coming ashore with their catch. They prepare their catch for sale on the spot.
Playa Lagun in Google Maps
Playa Piskado
Playa Piskado, also called Playa Grandi, is located all the way to West Point. The beach itself is not very special (fine in itself but nothing special), yet this is one of the busiest beaches in Curacao. Why? You can swim & snorkel here -with almost 100% certainty- among large sea turtles. So fun to do and therefore the reason it is so busy here. The turtles like to come here because the fishermen on the pier clean their catch and throw that offal into the sea: feast for the turtles!
So if you go to Playa Piskado, be sure to bring your own snorkeling gear. And also consider water shoes because it is a beach with lots of pebbles and boulders in the surf.
Facilities Playa Piskado
admission free of charge
free parking, but inconvenient (not a lot of parking spots)
beach bed, umbrella and/or snorkeling gear for rent
souvenir stalls along the road
limited catering available, also restrooms (paid)
45 to 60 minutes drive from Willemstad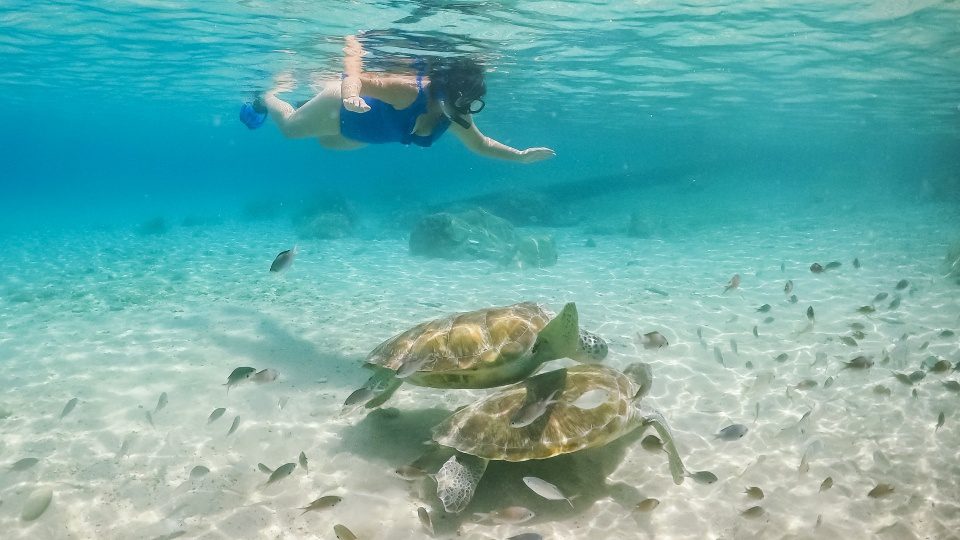 What can you do there?
Playa Piskado is not actually meant to be a tourist beach, but due to the presence of the turtles, it has become very touristy in the meantime. Our advice is not to go here for an entire day. But if you (with the kids) want to snorkel with turtles, this is surely the place to go. Note: Give the turtles plenty of space and do not touch them! Busloads of tourists also come here -literally- to snorkel with the turtles for a while. If they are there just when you also want to get into the water, wait ten minutes for them to leave again.
If you want to go here but don't feel like driving there specially, you can also take some (bus) tours here. E.g. with the bus tour All West Beach Hopping or Wonders of Curacao. Or join the cool Scuba Bus for a nice and beautiful snorkeling tour. If you want to go by boat, you can join the Powerboat on their Beach Hopping & Blue Room tour. And if you want to take a cool excursion on the spot, you can book the TurtleBob tour with SeaBob.
Playa Piskado in Google Maps
Mambo Beach
Mambo Beach is centrally located to the city and can actually be reached from all directions with about a 15-minute drive. It is the largest beach in Curacao, with beautiful fine sand. Shielded with rocks as breakwaters, so there is no wave action. Ideal for little kids! Not directly interesting for tourists but a fun fact: they give swimming lessons in the sea, so calm is the water here. There are plenty of beach beds available (paid) and with Mambo Beach Boulevard, you immediately have plenty of choices in restaurants and fun shops. Perhaps a little too touristy for some, but in itself just a wonderful beach to spend a day without getting bored.
Formally, Mambo is a beach where you have to pay admission of a few dollar p.p., but in practice this is not always charged. If you're going to lie here for an entire day, someone will pass by your beach bed, but if you want to spend an hour or two here, you have a reasonable chance of not having to pay admission.
Facilities Mambo Beach
longest beach of Curacao
free parking in large parking lot
beach bed for rent
plenty of shops and restaurants, including beach bed service
restrooms (free of charge)
Average 15-minute drive from anywhere in Willemstad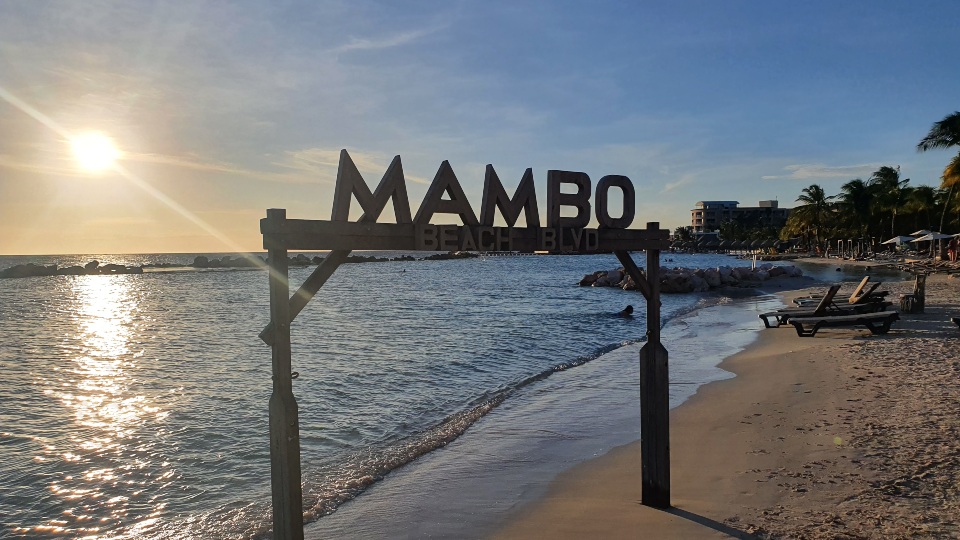 What can you do there?
Mambo Beach is a beach for the whole family. While the kids play in the surf, parents can relax on the sunbeds. There is also a beach volleyball court and a soccer field (behind Wet & Wild). You can have an extensive lunch here at one of Mambo Beach Boulevard's restaurants, or get fries and a snack at the Bonita Dutch snack bar. A fun thing to do is to swim with the kids to the breakwaters, climb on them and then try to catch the crabs there. Something that cannot be done here is diving. Because it is a constructed beach with the breakwaters, it is not a nice place to dive, so there is no dive shop at Mambo. You can go to the diving school Ocean Encounters (at the end of Mambo Beach, next to LionsDive Beach Resort), but for a dive you always go out by boat. If you come here on a Friday afternoon, you can enjoy a Happy Hour at Wet & Wild or Bonita while the kids are still playing in the surf.
Right next to Mambo Beach is the Dolphin Academy where you can swim with dolphins (reserve in advance, on the day itself it is always full!). The popular catamaran BlueFinn has the departure of the 3-in-1 Snorkel Tour and Sunset Cruise here on Fridays (at beach club MOOD), and the Westcoast Cruise on Sundays.
Mambo Beach in Google Maps
Daaibooi Beach
Daaibooi Beach is a lovely beach that is hugely popular with locals. It can be quite busy on weekends with families and groups of friends getting together here for fun. But during the week it is usually ¨cozy quiet¨ here: plenty of room but certainly not too quiet. The parking lot is right on the beach so you don't have to walk far with your stuff. There are some palapas (umbrellas made of palm leaves) and you can rent a beach bed. There is a little snack bar where you can get French fries and a snack, among other things; manager Kees is loved by and praised by many for his management of this small beach. So you can also use free wifi at Kees!
Another advantage: Daaibooi is one of the first beaches you encounter when driving on Banda Abou. Go to St. Willibrordus and then left at the church.
There may be some pebbles here and there, so water shoes for the kids is also recommended here.
Facilities Daaibooi Beach
admission free of charge
free parking in large parking lot
beach bed for rent
(snack) bar for a drink or (Dutch) snacks
toilets and shower (paid)
Average 30-minute drive from the city
What can you do there?
Daaibooi is a lovely beach where you can easily spend a whole day. Anyway, this is also a nice snorkeling spot where you can see lots of fish. So take your snorkel kit along! The palapas are located a bit back from the beach, leaving plenty of room at the waterline for sports & games. Build a sandcastle, challenge your travel companion to a game of beachtennis or join in with beachvolley! If you want to spend a day at Daaibooi ¨like a local¨, then bring a BBQ to Daaibooi. Especially during the weekend when relatively many locals go to Daaibooi, you will regularly smell delicious smells of the BBQ from late morning to late afternoon. If you want to take a diving lesson, you can do so here as well: on the beach is Divers Republic, an excellent diving school.
Daaibooi Beach in Google Maps
And more beaches!
Just because we mention only 5 beaches on this page does not mean that only 5 beaches on Curacao are suitable for families. There are certainly more beaches on Curacao where you can have a great day with your family for young & old. Jan Thiel, Grote Knip, Porto Marie with the little pigs, you name it. Do you have any tips of your own? Leave your tip below!