Catamarans in Curacao are popular. And we agree! Nothing gives you a better vacation feeling of sailing around Curacao on a sailboat like that. Delightful lying in the nets, cold drink in your hand, sun on your face and relaxed music in the background. The best you can get in the Caribbean…
All-Inclusive Catamaran
Curacao catamaran trips are actually always All-Inclusive, unless clearly stated otherwise. Some trips just a little more elaborate than others, but all offer the convenience of not having to bring money on board and just enjoying yourself.
The Catamarans
BlueFinn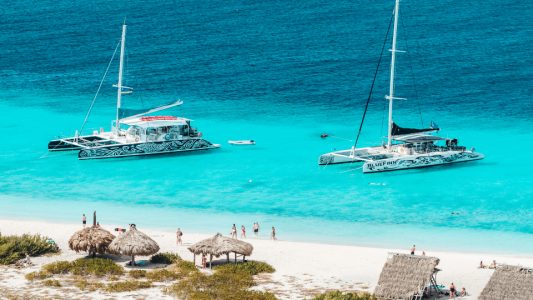 BlueFinn Charters' Black & White and Apache catamarans are Curacao's largest and newest catamarans, as well as the most popular. They sail every day, to Klein Curacao, the Westcoast or the Sunset Cruise. Always All-Inclusive, including Premium Open Bar: A-brand alcoholic beverages. Departs from Jan Thiel, so within walkable distance for many tourists.
Breeze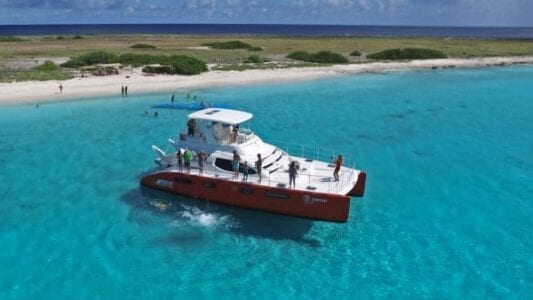 The Top Cat is a mini catamaran in name, but on board it is always the biggest party! This is truly a top cat: because of its size, this is Curacao's fastest catamaran. With a super nice crew that will make it a really fun day every time.
Irie Tours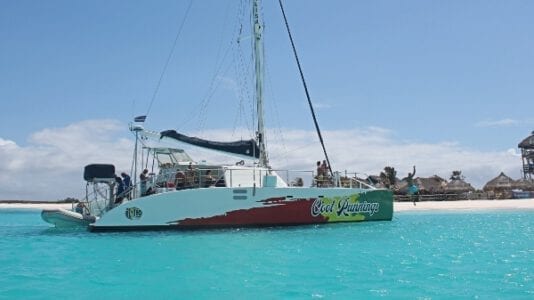 Irie Tours also has two large catamarans, the Cool Runnings and the Rastamaran. The beauty of Irie Tours' Klein Curacao trip is that they almost always have seats available. On Wednesdays and Fridays, you can also join Irie's Sunset Sail.
Various Catamaran trips
The catamarans, all in their own form, offer various trips. Some trips are fairly similar, but sometimes it's also a really unique trip.